Karndean Floor Cleaning Warrington
Karndean Floor Cleaning Warrington
Karndean is a popular option when it comes to luxury vinyl flooring. It is a wonderful alternative to hard flooring not only for its stunning visual appeal but also for its cheap pricing. Karndean floors are highly durable and very hygienic, which makes them perfect for bathrooms and kitchens.
However, like is the case with flooring of any type, even Karndean floors require regular cleaning and maintenance to help retain their sheen and extend their life. It helps to hire a professional Karndean floor cleaning service for your Warrington property.
Just Clean Property Care can professionally clean the vinyl flooring in your home/office. We have years of experience in cleaning and restoring Karndean vinyl flooring. We are equipped with the latest and the most advanced cleaning equipment to provide your Karndean floor with a deep clean.
Contact us today for professional, reliable and high quality Karndean floor cleaning in Warrington.
Our Karndean Floor Cleaning Services in Warrington
Our experienced technicians can deliver the following Karndean floor cleaning services:
Karndean floor stripping
Karndean floor cleaning
Karndean floor sealing
Karndean floor restoration
Karndean floor stain removal
Karndean floor degeneration repairs
Karndean Floor Cleaning Warrington – Our Process
The first thing we do is cover the surroundings of a room such as furniture, wall or anything else that needs protection. We begin the Karndean flooring cleaning process with a quick vacuum and brushing to remove all small objects that may scratch the surface.
Our Karndean floor cleaning Warrington experts will then spray down our specially formulated cleaning solution on the floor. After allowing it to work its magic for a few minutes, we will use a rotary machine for a really deep clean.
We will then use specialised equipment to jet water on the floor to rinse it clean. We will remove the water, which is sent back to our van for a mess free experience.
We will then inspect the floor for the presence of dirt/soil to ensure it's completely clean. Once the floor dries up, we will seal the Karndean floor in a finish of your choice – matt, satin, and shine.
Contact Just Clean Property Care today for high quality Karndean floor cleaning in Warrington. Call 01925 223 547 now for a free quote.
Before and After Tile Cleaning
Before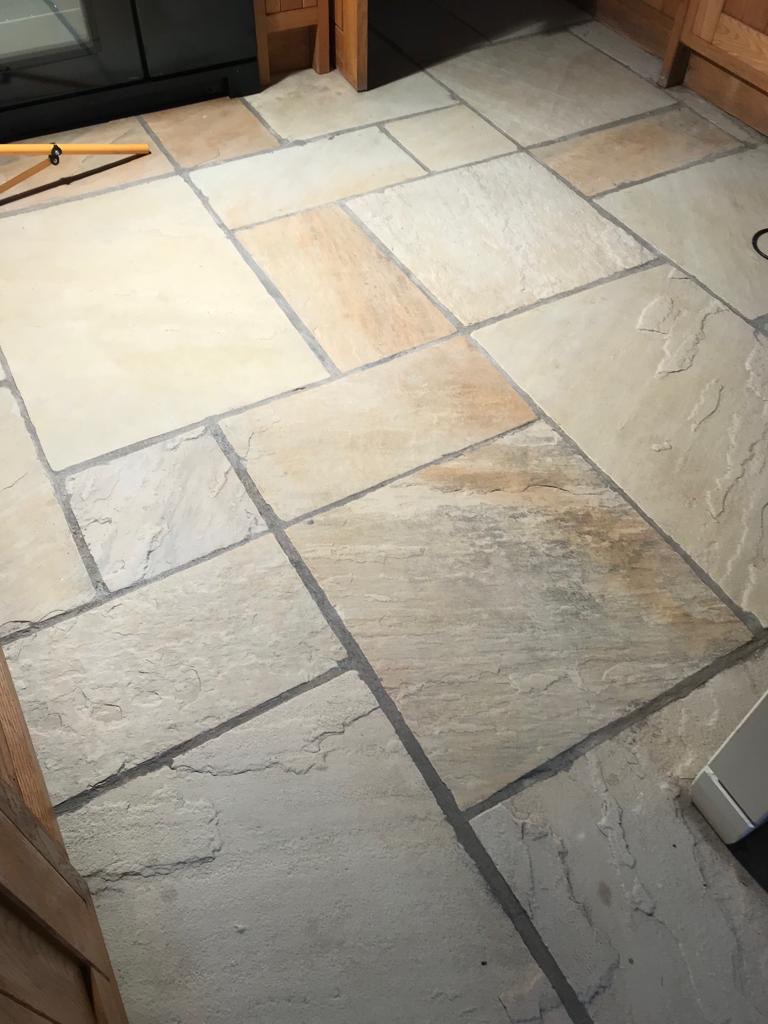 After