Limestone Floor Cleaning
Limestone is a popular flooring option in Warrington for its elegance, high durability and a touch of class that it adds to any space. If cared for appropriately, your limestone flooring can last for years. If you're looking for professional experts to take care of your precious floors, think of Just Clean. We provide reliable, affordable and high quality limestone floor cleaning in Warrington.
With years of experience, our technicians can restore your limestone flooring no matter its current condition. We make use of the latest equipment to deliver a disruption-free, mess-free cleaning service that is sure to bring a smile on your face.
Whether you are looking for limestone floor cleaning in Warrington for your home, hotel, office, restaurant or cafe, we have you covered. Contact Just Clean today for an obligation free inspection and quote. Call 01925 223 547 now.
Our Limestone Floor Cleaning Services in Warrington
Limestone floor inspection
Limestone floor restoration
Limestone floor stripping
Limestone floor stain removal
Limestone floor cleaning
Limestone floor sealing
Book Our Professional Limestone Floor Cleaning Service in Warrington
Have a question? Need expert advice? Looking for a free quote for our limestone flooring cleaning services in Warrington? Call 01925 223 547 right away.
Limestone Floor Cleaning Services in Warrington – Our Process
At Just Clean, we aim to provide a service that delights our customers. We take care of the littlest details to deliver a service that'll put a smile on your face.
That's why our limestone floor cleaning crew in Warrington begins the cleaning process with an inspection, testing and a discussion with you. We will analyse the condition of your limestone floors to determine the right cleaning technique and equipment to be used for the process. We will also discuss with you the various finishes that can be delivered. So whether you want a natural look, a smooth finish, shiny finish or dull finish, we have you covered.
Next, we will cover up the exposed surfaces including walls and furniture. This will keep these surface protected from the moisture that will arise from the cleaning procedure.
Our limestone floor cleaning technicians in Warrington will spray our special, heavy duty limestone cleaning solution to break down the dirt and soils that have settled on the floor.
WE will then use industrial grade rotary machines with appropriate attachments to scrub the limestone tiles clean. We will begin with the brush scrubs and follow this up with pad scrubs for a highly effective clean up. We will use a grout brush to manually clean the grout lines.
Next, we will rinse the cleaning solution using jet hot water. Once the surface has dried up, we will check to ensure the cleaning has been thorough and repeat the procedure if necessary.
We will then apply a coat of high quality sealer to deliver that perfect finish to your limestone flooring.
Why Choose Our Limestone Floor Cleaning Service in Warrington
Family operated business with years of experience
Fully accredited, insured and licensed
Fully trained and highly experienced cleaning crew
State of the art cleaning equipment for a professional clean
High quality work guaranteed
High quality cleaning and sealing products
Before and After Tile Cleaning
Before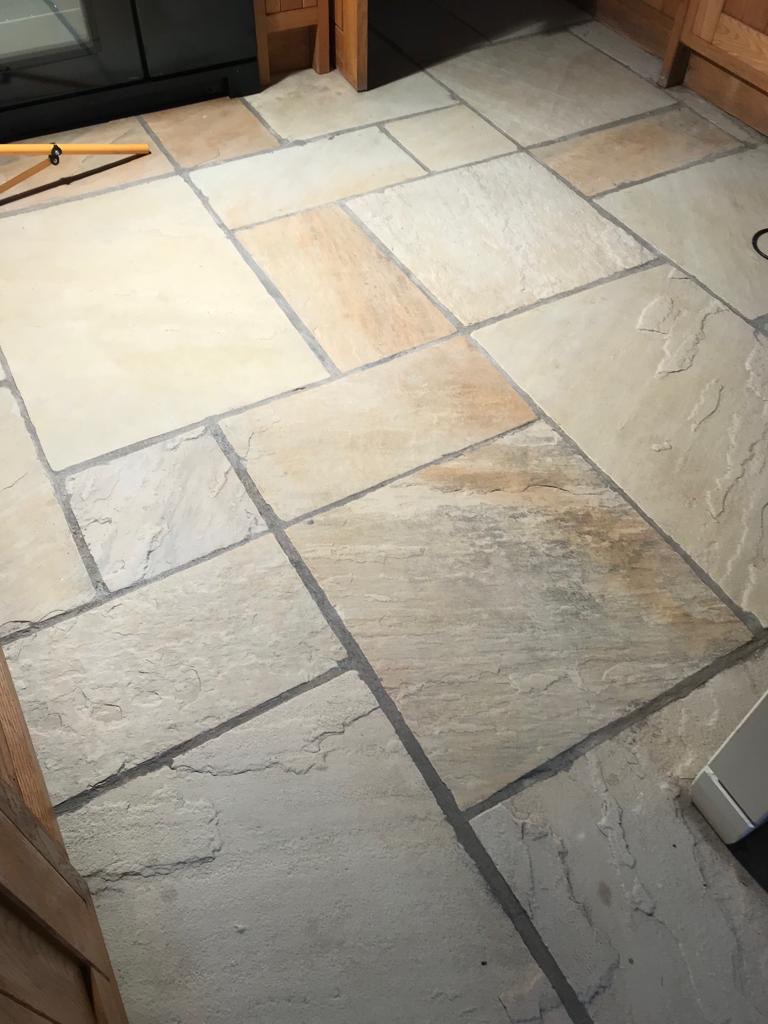 After