Terracotta Floor Cleaning
Terracotta Floor Cleaning
Terracotta tiles are a wonderful option for your floors. They add a tender touch of warmth to your space. However, you must take care of them regularly to ensure they last for years without trouble. Just Clean provides top-notch terracotta floor cleaning in Warrington. Our highly experienced technicians can restore your terracotta flooring no matter its current condition.
Terracotta offers a variety of benefits. It is eco-friendly, repels liquid spillages and bacteria, is highly versatile and fire resistant too. With so many benefits, no wonder that homeowners in Warrington choose terracotta floors for their space. However, terracotta is highly porous. So if you use a cleaning solution that's not right for them, your tiles will be damaged forever.
Our professional terracotta floor cleaning crew in Warrington will help you clean, restore and repair your terracotta floors and bring them back to life. Get in touch with us today for a free patch-test and quote.
Call 01925 223 547 now.
Our Terracotta Floor Cleaning Services in Warrington
Terracotta floor inspection
Terracotta floor stain removal
Terracotta floor cleaning
Terracotta floor repairs
Terracotta floor restoration
Terracotta floor stripping
Terracotta floor polishing
Terracotta floor sealing
Terracotta floor maintenance
Hire the Terracotta Floor Cleaning Specialists in Warrington
At Just Clean, we pride ourselves on offering professional, reliable and affordable service. Contact us today for a free patch test and quote. Call 01925 223 547 right away
Terracotta Floor Cleaning in Warrington – Our Process
Before we begin the cleaning process, we will sheet up the site to protect the surrounding surfaces. All surrounding stone floors, carpets, and hardwood floors are covered using protective floor film. We will cover up the walls and furniture using polythene sheets.
Next, we will use a vacuum cleaner to clean up all dust and small particles from the terracotta floor.
Our terracotta floor cleaning technicians in Warrington will then apply a floor cleaning solution and leave it to dwell for a few minutes.
After some time, we will agitate your terracotta floor using specialised terracotta floor scrubbing equipment. This mechanical agitation will help in breaking down the soil and dirt that's settled into the terracotta floors. Any areas including edges that can't be reached using a machine will be agitated by hand.
We will then clean the grout lines by hand. We will ensure the old sealer is completely removed.
Next, we'll rinse the floor using jet hot water equipment. We will repeat the rinsing process up to 3 times to make sure the dirt and debris are completely removed and no stripper is left behind.
We will touch up specific areas that may need our special attention. This is especially true with stubborn sealers around grout lines.
We will let your terracotta floor to dry. This ensures all the moisture has dried up before a new layer of sealer is applied.
Once the floor has completely dried, our terracotta floor cleaning crew in Warrington will apply a unique floor sealer that delivers a high-class finish without leaving any streaks.
Before and After Tile Cleaning
Before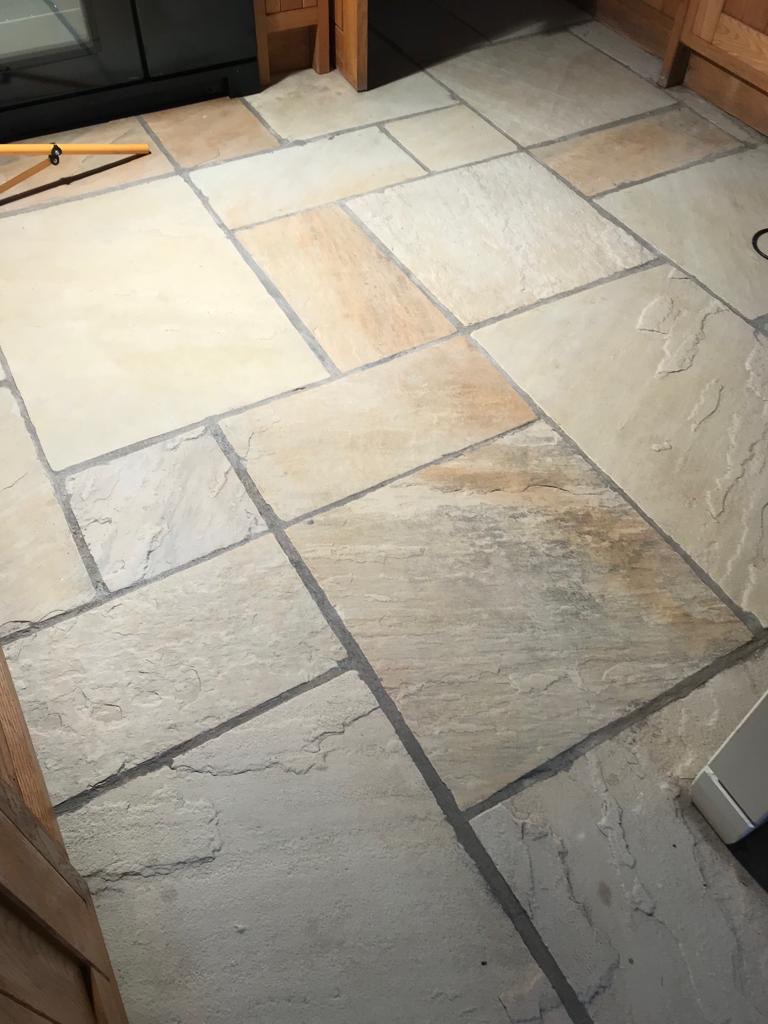 After